Mobile medical cart computer
New! Venus 4th Generation
Venus 4th Generation
Since the 1st generation of Venus Medical Cart Computers launched in 2013, they have taken the market by storm.
With a unique dual hot-swappable battery design and medical grade construction, they have sold nearly 40,000 Venus units and 200,000 batteries in more than 1,000 hospitals around the world. After eight years of leading the way with revolutionary products, Onyx are poised to evolve yet again and push the boundaries even further.
Micromax Health and Onyx are very happy to announce the launch of the 4th generation of our Venus line of products!

Key Features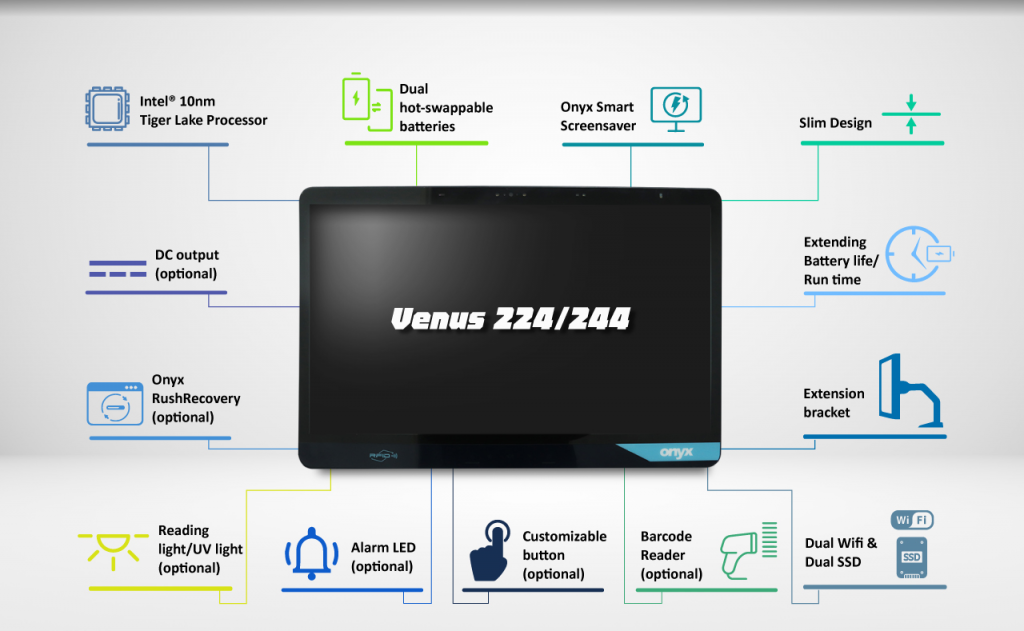 Intel® 10nm Tiger Lake Processor

The 4th generation Venus is powered by the latest 11th Gen Intel® Core™ processors that deliver a balance of performance and responsiveness in a low-power platform built on the third-generation 10nm process technology. The platform combines a high-performance CPU with up to 23% faster single thread performance and up to 19% faster multi-thread performance. With new Intel® Iris® Xe graphics the platform offers up to 2.95 times faster graphics performance, plus PCI Express 4.0 and Thunderbolt™ 4/USB4. Engineered to deliver optimum results for IoT markets, these processors can support low-latency and time-sensitive applications and have the power to run multiple workloads including AI and deep learning applications on a single platform.
Dual hot-swappable batteries

Naturally, Venus retains its signature feature of dual hot-swappable batteries. The hot-swappable battery design allows any Venus with dead batteries to come immediately back to full power without the need to wait for charging. The new Venus is still compatible with the original battery system, but we have strengthened the waterproofing of the battery bay, as well as simplified the battery switch-out process, improving from the original 3 second, two-step process to a one step execution that takes only 1 second.
Onyx Smart Screensaver

Differing from the traditional Windows screensaver, the Onyx smart screensaver can automatically log out and close the screen in just a few seconds after a user walks away from the computer, protecting sensitive information and increasing power savings. The Onyx smart screensaver is simple to set up through our exclusive IR technology and does not require any personal information. Even wearing a mask does not affect its functionality!
Slim Design

In the past, in order to achieve medical grade protection, computers often needed to be bulky and heavy. Through the efforts of the Onyx R&D team, we have broken through this limitation and can now offer users medical-grade protection in a lighter, slimmer and more modern design. This also will allow greater flexibility where the Venus 4 can be installed and operated while not losing any functionality.
DC output (optional)

Our users chose Venus to replace the bulky batteries of traditional battery care carts, meaning that Venus should provide support as a power output device for additional power to secondary devices when needed. The optional 50W DC output allows users to easily connect dual monitors, thermal printers and other external devices without the need to prepare additional power.
Onyx Rush Recovery (optional)

As computers become more powerful, the number and complexity of their operations grow. When PC settings are changed unexpectedly, they can often cause a computer to crash. In hospitals, patient safety often includes a race against time, where computer crashes must be recovered from as quickly as possible. RushRecovery is a solution designed by Onyx and Apacer that can restore your system's original state, allowing hospitals to deal with computer abnormalities with almost no loss to data or productivity.
Reading light/UV light (optional)

In the previous generation of Venus, the reading light was a very distinctive part of the design that allowed users to complete their work more easily in dim environments. With this new generation we will provide another option, by upgrading the reading light to a UV light, so that when the cart sits idle, it can effectively assist in disinfecting the desktop and nearby equipment.
Alarm LED (optional)

A customised RGB LED can be installed on the upper front side of the Venus and connect to applications to act as an intuitive reminder, for example, as an emergency call bell or equipment malfunction warning light. This allows the new Venus 4 to be an even bigger asset in high dependency wards and allows medical staff to focus on patient care.
Custom Button (optional)

A customisable button can be installed on the underside of the Venus that can link to various applications to be a trigger for  special functions. These functions could be features such as turning off the LCD, calling for help or switching additional equipment on and off.
Barcode reader (optional)

A facedown barcode reader can be installed on the underside of the Venus for scanning medicines or receipts. This allows documents and ID cards to be used while still keeping nursing carts and static installations free of cutter and reduces the chances of damage to equipment that has required a custom or bespoke installation. No need for a barcode reader to be hanging off the side of your nursing cart!
Extending battery life/run time

Battery management is a hidden IT cost for hospitals, so allowing a battery to run longer and with more cycles will save on these kinds of expenses, whether it is in management costs or battery procurement costs. With the user's consent, the new generation of Venus can collect battery usage behavior with ORION and then calculate the best settings for each battery to extend its life and cycles. This backward compatible technology even works with old batteries.
Extension bracket

Depending on how the Venus is installed, users will often need something on which to place items. We understand that every application can have different requirements and that is why the Venus is designed with a bracket that can be extended to conveniently place items such as a barcode reader, thermal printer or other equipment that is required. We are happy to discuss specific bracket or attachment requirements should your application require it!
Dual Wi-Fi & dual SSD

Venus has built-in dual M.2 slots supporting two Wi-Fi modules for devices such as endoscopes, ultrasound and other devices that require a large bandwidth wireless network connection. Venus can connect to the Internet and these devices at the same time, to easily transfer images to the network in real time.
The dual SSD design also allows users to separate the operating system from the data storage area, so that data is better protected.
VIDEO: The superiority of the Venus mobile medical cart computer
Why work with Micromax Health? Medical Grade Solutions & Industry-leading Partners
We are committed to providing leading medical grade IT devices and solutions that ensure longevity of product and process. Reliable and Local Support
We have an Australian-based Warranty, Repairs and Support Centre for Asia Pacific including a next-day support service by our field application engineers. Internationally Certified
We are internationally certified against Quality, Environment and Safety.
Committed to providing medical grade IT devices and solutions for improved health care and to save lives