Onyx Healthcare now a hardware manufacturing partner with Nvidia Partner Network

Onyx Healthcare Inc. is a professional medical IT company, specializing in hardware manufacturing of medical pc solutions. Nvidia is a powerhouse in next generation computing. Nvidia Jetson is the foremost AI-at-the edge computing platform enabling manufacturers of intelligent machines and AI developers to create and deploy in a range of IoT applications, including healthcare.

In order to continue innovating and work with the best in field, Onyx has joined the Nvidia Partner Network. With the purpose of improving healthcare outcomes Nvidia & Onyx work together to make potential a reality in AI ecosystem solutions for the healthcare space.
AI impact on healthcare
Medical AI tech can significantly improve the capability and speed of diagnosis for healthcare providers while giving back time for the most important aspects of their work requiring human elements.
Early diagnosis can significantly improve outcomes for patients and AI has a major role to play in making that reality and improving efficiencies in healthcare across the board.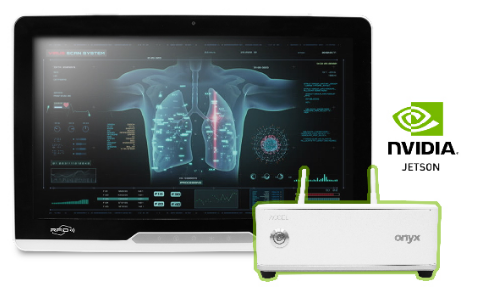 AI edge computing with NVIDIA Jetson Platform
Onyx Healthcare Inc has already begun working with Nvidia's world leading AI platform portfolio; Jetson. ACCEL-JS series is a compact medical AI accelerator  made for AI market segments. The ACCEL-JS  utilises the Jetson AGX Xavier™ one of NVIDIA's leading modules with great energy efficiency and an incredible compute density, offering the performance of much larger workstations.
If you would like hear more about Onyx then reach out to us to discuss.
Categories: Aged Care Facilities, Distributors of Technology, Health Researchers, Local Area Health Services, OEM/ODM, Private Hospitals, Private Surgeries, Public Hospitals, Super Clinics, System Integrators