Battery, charger, UPS for medical computers
UPS, Batteries and Chargers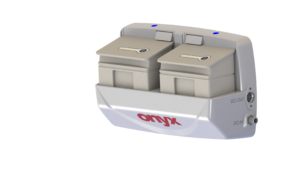 Micromax Health supplies the medical industry with a unique solution to supply power to medical IT computers, devices and equipment. The innovative design behind the Onyx range of power solutions gives you the capability of providing continual power to your equipment.  The dual hot swappable battery architecture ensures your medical device remains powered even while you are replacing a battery.
As a unique feature, the UPower Pro-22 includes a voltage selection DC-output that allows healthcare professionals to select the desired voltage setting. Users can select from 12, 19, or 24 volts based on their additional power requirements.
VIDEO: UPower – Providing constant power to mobile medical computers and devices
Whether you need medical grade computers, medical grade UPS, patient monitors or medical carts, we have the solution for you.
Factsheets
Comparison of Medical Cart Computers and Batteries
How do I best care for my Onyx Batteries?
Reactivate Dormant Onyx Battery – Quick Start Guide
Benefits

Constant power, dual hot swappable batteries architecture

Capable of charging two or six batteries simultaneously

Manufactured from medical-grade materials

High-speed recharge and over charge protection

External DC output (2-slot only)

Selected voltage (12V / 19V / 24V) (2-slot only)

USB connector to power smaller handheld devices

Software (ORION) to allow you to remotely monitor the battery

Independent LED indicators, clearly reveal charge status

10 years end-of-life and 12 months warranty on batteries
Dual swappable batteries
Our power supply range gives you the capability of providing endless power with its unique swappable battery architecture. Batteries can be replaced without needing to turn off your medical computer or equipment. You will never again be in danger of losing power to your medical PC or other important devices when it is most critically needed.
Cable-less work area
Rather than needing your medical computer cart to stay connected to a power outlet, our power solutions create a cable-less work area.  This not only reduces trip hazards, but also gives healthcare professionals, particularly nurses, the ability to move freely without being tethered to wall power.
Medical user selected voltage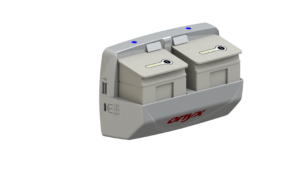 Since electronic devices operate with varying voltage requirements, the multi-voltage power allows doctors, nurses and other healthcare professionals to personally select the proper voltage setting. Users can select from 12, 19, or 24 volts based on their needs or medical computer requirements.
Battery software management
These "smart" medical grade power banks can be managed with the ORION device management software.  The unique solution from Onyx Healthcare intelligently monitors the status of all the batteries connected to the system.
Application within Hospital Intensive Care Units (ICU)
– Vital Signs Equipment
As hospital ICU's provide intensive care for patients suffering from severe injuries and life-threatening illness, patients must be monitored constantly. This requires that vital signs equipment and other specialised medical computers to be powered continually to make sure they remain in stable condition. With the range of Onyx power solutions from Micromax Health, battery powered medical devices will never again be in danger of losing power when it is most critically needed.
VIDEO: Top 5 tips for battery care
FAQs
Visit our FAQ page for answers to these commonly asked questions about our Onyx batteries:
How do I best care for my Onyx batteries?
How do I change the hot swappable batteries on the Venus mobile medical cart or other devices?
What does 'hot-swappable batteries' mean?
2-slot charger with 120W DC output (UPower Pro-22)
Features

2-slot charger with 120W DC output

Compatible with short battery and long battery (XL)

120W power output, mini-din 4pin x1

10W USB port x1 (power output only)

Selected voltage (12V / 19V / 24V)

Non-stop, swappable batteries architecture

Battery information software monitor (ORION)

Capable of charging two batteries simultaneously

Support for wall and cart mounting

LED indicator, clearly displays charge status
Other Models
OPM P02T (XL Battery Kit)
Features

Compatible with all Venus-series and all UPower series

150% battery capacity (8550mAh) compared to standard Upower series

120W output, fit almost 99% AIO/NB

Battery information software monitor (ORION)

Battery capacity indicator button

Medical grade certified (with Venus)
Datasheets
VIDEO: How to change the battery on a Venus mobile medical computer
Accessories
Datasheets
Factsheets
Applications

Nursing mobile cart

Telemedicine

Intensive Care Unit

Emergency Services

Ambulance Attendant Patient Transport

Computer, printers and accessory power supply
Industries

Private Hospitals

Public Hospitals

Mental Health Institutions

Pharmaceutical

Private Surgeries

Super Clinics

OEM/ODM

Allied Health

Palliative Care

Local Area Health Services

Health Researchers

Private Surgeries

Aged Care Facilities
Contact Us
Why work with Micromax Health? Medical Grade Solutions & Industry-leading Partners
We are committed to providing leading medical grade IT devices and solutions that ensure longevity of product and process. Reliable and Local Support
We have an Australian-based Warranty, Repairs and Support Centre for Asia Pacific including a next-day support service by our field application engineers. Internationally Certified
We are internationally certified against Quality, Environment and Safety.
Committed to providing medical grade IT devices and solutions for improved health care and to save lives