Infotainment solutions for patients
Accessing entertainment media; viewing personal medical records; browsing the internet; calling a nurse for assistance; making a phone to a loved one – all without the patient leaving their bed – this is possible with the Healthcare Infotainment solutions from Micromax Health.
Our range of Onyx healthcare infotainment computers reduce the workload of nurses while maximising the patient's hospital experience during their stays. The Onyx Infotainment series come in 11.6″/15.6″/18.5″ touch panel LCDs and are low power, high performance and all-in-one computer terminals. Our infotainment devices feature high brightness and wide-viewing angle screen and has an anti-microbial design. Our infotainment products are perfectly suited for hospitals, aged care and the medical industry as a whole. From the high performance Intel processor to power saving ARM CPUs, Onyx Infotainment series allows customers to select from a wide variety of bedside solutions that best fits their needs.
Whether you need medical grade computers, medical grade UPS, patient monitors or medical carts, we have the solution for you.
Benefits

HD video quality with HDMI input

10.1", 15.6", or 18.5" Multi Touch LCD display

USB interface to host computer

Lightweight, ranging from 1.5 to 3.2kg

Medical grade component construction

Wired remote control w/ handset Function

Integrated Smart Card reader, MSR/RFID, Barcode scanner

VOIP Phone, Web Camera, High quality speakers, Reading Light

Water and dust proof

EN/UL 60601-1 compliant
Peripheral support features that extend your efficiency
Increasing the efficiency of your healthcare facility is conveniently managed with the addition of intelligent peripheral devices, like smart card and magnetic swipe card readers, high resolution webcams and 10-point multi-touch displays.
Ergonomic and cost-effective design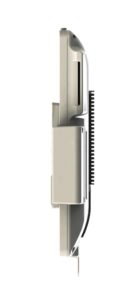 The Onyx Bedside Infotainment Series offers solutions that are both lightweight and compact in size, making them easy to carry, install and manage for medical staff. Units with an 18.5" display weigh only 3.5kg, while units with an 11.6" display weighs just 1.5kg. The competitively priced Bedside Infotainment Series makes it an ideal solution to fit a multitude of medical IT applications, while at the same time saving on your medical IT budget.
Power over Ethernet (PoE)
The advantages of using PoE include providing a single cable for both data and power that eliminates the need for extra power cables. It also allows for ease of installation as there is no need to coordinate data and power sources which can leave extra lengths of exposed cabling. Our products also cater for the option of using existing infrastructure, minimising interruptions to facilities and patients.
Multifunctional remote control
Controlling the infotainment system has been made as simple and convenient as possible with the multifunctional remote control. The controller includes a VOIP phone as well as all buttons necessary to control the unit. An optional 2D barcode scanner is also available.
18.5" Fanless Bedside Infotainment Touch Terminal (ONYX-BBE182)
Features

Intel® J1900 2.42GHz Quad Core Processor

18.5" Wide colour TFT LCD touch terminal

PCT for supporting multi-touch

Wired remote control with handset function

VOIP phone, webcam, high quality speaker, MSR, Smart Card Reader

Reading light

Extension feature: RFID and Barcode Scanner

IP65 Waterproof at front of terminal

EN 60601-1, UL 60601-compliant
Datasheets
Other Models
ONYX-BE381 – 18.5" Bedside Infotainment Touch Monitor
Datasheets
ONYX-1531 – 15.6" Fanless Bedside Infotainment Touch Terminal
Datasheets
ONYX-1222 – 11.6" Fanless Bedside Infotainment Touch Terminal
Datasheets
MEDPC-2100 – Fanless J1900 Quad Core Infotainment Box PC
Datasheets
MEDPC-1600 – Fanless J1900 Quad Core Infotainment Box PC
Datasheets
Accessories
Datasheets
Applications

Hospital ward

Nursing station

Nursing computer cart

Bedside Infotainment

Healthcare information kiosk

Home care kiosk

Telemedicine

Medical IT

Pharmacy
Industries

Aged Care Facilities

Private Hospitals

Public Hospitals

Mental Health Institutions

Palliative Care

Local Area Health Services

Private Surgeries

Super Clinics

OEM/ODM
Contact Us
Why work with Micromax Health? Medical Grade Solutions & Industry-leading Partners
We are committed to providing leading medical grade IT devices and solutions that ensure longevity of product and process. Reliable and Local Support
We have an Australian-based Warranty, Repairs and Support Centre for Asia Pacific including a next-day support service by our field application engineers. Internationally Certified
We are internationally certified against Quality, Environment and Safety.
Committed to providing medical grade IT devices and solutions for improved health care and to save lives