Visitor Management & Compliance Solutions
Visitor Management & Compliance Solutions
Improve efficiency, reduce costs and enjoy smart analytics
Attend to visitors and contractors safely with contact-free options.

Cater to different groups with specific processes for staff, guests and contractors.

One efficient solution for multiple processes and compliance requirements.
Much more than just a safe and simple check-in
Typical visitor management solutions can provide:
Visitor, staff, contractor processes.
Badge Printing.
Clear & easy sign in & sign out buttons.
QR codes for mobile check in.
Site Inductions
Live SMS notifications.
Real-time visitor & contractor reporting.
Pre-register visitors before arrival on site.
Notify occupants of guest arrival.
Contractor access control based on permits and approvals.
Store and share site policies.
Visitor logs.
Evacuation list.
Capture visitor information & profile.
An extensive suite of solutions requirements are available for compliance requirements.
Our technology partners
Micromax Technology works with innovative technology partners to provide solutions to meet your organizations needs.
Micromax utilizes software for seamless solutions. TIKS make compliance easy. TIKS software enables integrated solutions for safer workplaces around the world.
We can help
Updating to a digital system can reduce staff workload and save money, improve security and compliance. Typical set-up reduces physical contact and enables social distancing.
Whether your needs are turning manual visitor sign in processes into a digital system or a complete digital transformation with a complete end-end integrated system, we can help.
Visitor check-in, site induction, time attendance and alerts are some common requirements.
Complete Service
Our solutions can be provided as all-in-one format, meaning they are hassle free for you to set-up, can run independent of other systems as required and are easy to use for your team.
We provide the hardware and software together as one solution ready to work for you.
Micromax can deliver to site and provide branded kiosks and digital signage for a complete brand experience.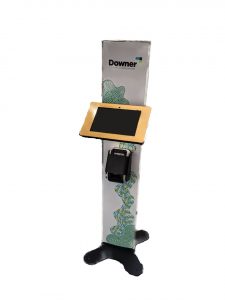 We are an Australian based company who offer warranty and have the capacity to repair hardware in-house.
We can cater to a range of needs
Software solutions are available for a range of requirements:
Asset Management
Emergency Alerts
Chemical Register
Drug & Alcohol integration
Lone worker
Chain of Responsibility
JSA/SWMS
Visitor Management
Contractor Management
Competency Management
Work Order Management
Permit control
Task sheets & Job closure
Work scheduling
ERP integration
Time attendance
Breach notification
Fatigue Management
Document Management
Induction and Training
Applications

Visitor check in

Navigating wards

Staff check in and time attendance

Contactless visitor management

Contractor Management
Industries

Public and Private Hospitals

Mental Health Hospitals

Aged Care Facilities

Major Clinics

Local Area Health

Private Surgeries
Contact Us
Why work with Micromax Health? Medical Grade Solutions & Industry-leading Partners
We are committed to providing leading medical grade IT devices and solutions that ensure longevity of product and process. Reliable and Local Support
We have an Australian-based Warranty, Repairs and Support Centre for Asia Pacific including a next-day support service by our field application engineers. Internationally Certified
We are internationally certified against Quality, Environment and Safety.
Committed to providing medical grade IT devices and solutions for improved health care and to save lives