Onyx introduces the Next Generation Mobile Medical Assistant: Julia Series Medical PDA (mPDA)
Micromax Health and Onyx are pleased to present the Julia Series mPDA that is designed to help healthcare professionals control IT costs while also streamlining workflows so that they can can instead focus on their main task, providing the highest-quality care for their patients. The Julia Series mPDA provides you with all the medical data you need in the palm of your hand.
Real-time access to patient information
As an important part of the clinical decision-making process, Julia Series mPDAs give doctors and nurses real-time access to confidential patient information so that they can confidently make well-informed and effective lifesaving decisions about their patients care.
Improving the ability to monitor patients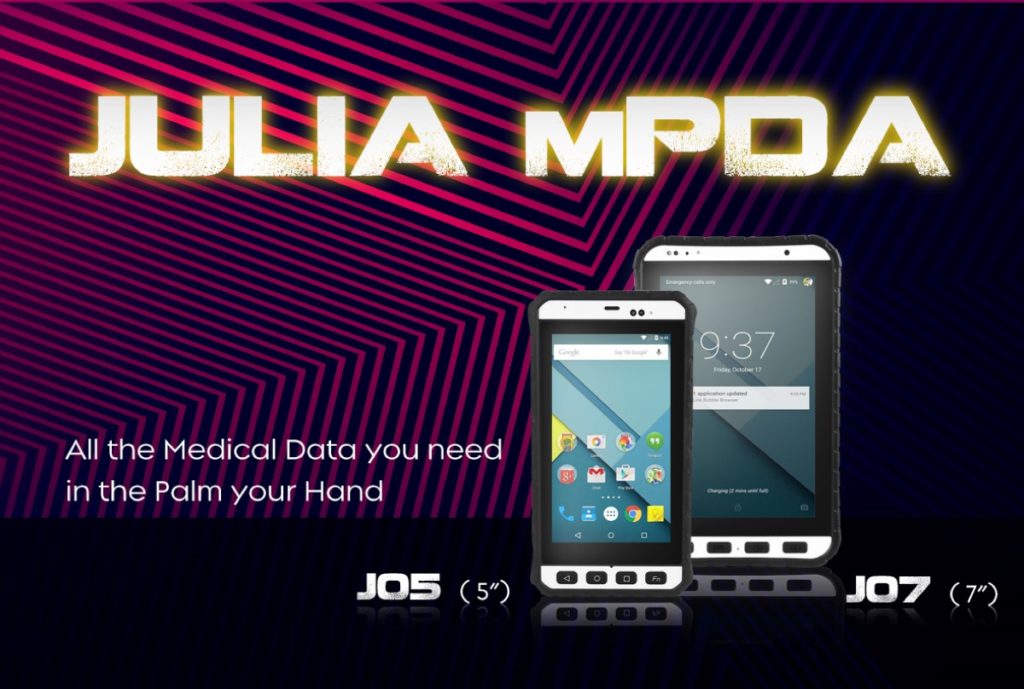 One of the most important duties for hospital staff is patient monitoring which can include various functions such as monitoring and recording patient vital signs, creating charts and making lab requests among other things. These functions can easily be managed by the Julia Series mPDA with the use of applications so that hospital staff are free to perform other tasks while using their Julia mPDA to remotely monitor their patients.
Designed for the medical industry
Because they are IP65 waterproof and dustproof, Julia Series mPDAs are easy to keep clean simply by wiping them with commonly used disinfectant solutions; they are also small enough to fit in a coat pocket, making them ultra-portable devices that are as easy and convenient to use as a mobile phone.
Applications
On-demand access to medical literature and medicine databases
Time management
Health record access and maintenance
Communications and consulting
Clinical decision-making
Patient monitoring.
Features include
Cortex-A53 Octa Core Processor
7″ & 5″ 1280 x 720 TFT Panel with direct optical bonding
Android 5.1 operating system
Hot-swappable battery design
1D/2D barcode reader and NFC
IP64 waterproof and dustproof
Fits in coat pocket.
Find Out More
Micromax Health provide medical grade IT devices and solutions for the medical and healthcare industry. To find out more, contact us on 1300 871 322 or complete our online form.
Related video
Related products
Categories: Aged Care Facilities, Distributors of Technology, Health Researchers, Home Health Care Providers, Private Hospitals, Private Surgeries, Public Hospitals, System Integrators