Bulk Hospital Grade Antiseptic Hand Sanitiser Refills
Bulk Hospital Grade Antiseptic Hand Sanitiser Refills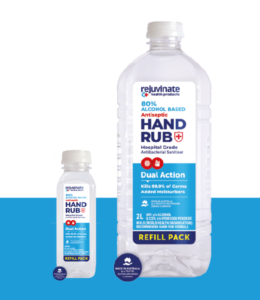 Micromax Health is happy to support the Covid-19 response by providing health care facilities with access to bulk supply hand sanitiser refills.
Although hand washing is a simple and thorough way of keeping hands clean, there are many situations where it's just not possible to easily access washing facilities. This is why alcohol based hand sanitiser stations have been set up in many public places including hospital and medical facility entryways.
There have been some supply issues here in Australia when obtaining hand sanitiser or hand sanitiser refills. Micromax Health recognises the importance of providing the health care community with reliable and high quality access to bulk supplies of this needed commodity.
We provide the option of handy 350ml refill packs and 2L bulk packs to fill any need that arises.
These products are made here in in Australia by a trusted Australian owned company and are available now.
Australia should never have a shortage of Hand Sanitiser again!
Key Features
80% alcohol based antiseptic hand rub
Hospital grade antibacterial sanitiser
Kills 99.9% of germs
Cleans and softens your hands without water
Rich with glycerine to keep your hands gentle & soft.
Bulk Sanitiser Refills

350ml Refills
The 350ml price of 1 carton is $86.40 (ex GST) + freight and contains 12 x 350ml bottles while 1 pallet contains 198 cartons (2376 bottles).
2L Refills
The 2L price of 1 carton is $216 (ex GST) + freight and contains 6 x 2L bottles while 1 pallet contains 100 cartons (600 bottles).
Micromax Health provides free delivery for pallet orders.
Datasheets
Factsheets
RELATED VIDEO: Real-time Temperature Screening with Central Management
Applications

Medical Examination Room

Emergency Departments

Hospital Entrances

Doctors Practice/Physician Clinic

Shopping Centers
Industries

Local Area Health Services

Private Surgeries

Public Hospitals

Private Hospitals

Aged Care Facilities

Super Clinics
Contact Us
Why work with Micromax Health? Medical Grade Solutions & Industry-leading Partners
We are committed to providing leading medical grade IT devices and solutions that ensure longevity of product and process. Reliable and Local Support
We have an Australian-based Warranty, Repairs and Support Centre for Asia Pacific including a next-day support service by our field application engineers. Internationally Certified
We are internationally certified against Quality, Environment and Safety.
Committed to providing medical grade IT devices and solutions for improved health care and to save lives