Uninterrupted Power Means You Stay Focused on the Important Jobs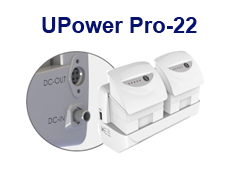 Micromax Health is pleased to introduce a new addition to our Onyx UPower product line of UPS, Batteries and Chargers—the UPower Pro-22.
The UPower Pro-22 is a two slot battery charger compatible with both Onyx standard and new long-life (XL) batteries. Combining this charging station with any of the range of Mobile Medical Cart Computers from Micromax Health will provide a constant 24/7 power source.
With an intelligent battery sensing system, the UPower Pro-22 automatically detects the type of battery inserted and provides optimised charging at the correct wattage; avoiding the risk of accidentally damaging the batteries due to incorrect wattage. With the ability to choose the desired input voltage setting, the charging station also features a 120 W DC-out socket for any additional power expansion requirements. The UPower Pro-22 also features a 10 W USB Type A connector that offers easy charging for many types of mobile electronic form factors such as tablet computers and mobile phones. The fully customisable LED indicator will inform you of the charging status of the battery.
With the UPower Pro-22, medical and health care professionals will never be in danger of losing power when it is most critically needed.
Related videos
Onyx UPower – Providing constant power to mobile medical computers and devices
Top five tips for healthy Onyx Venus batteries – From Micromax Health
Contact our team at Micromax Health for more information on how the UPower Pro-22 will suit your needs.
Related Products
Categories: Aged Care Facilities, Allied Health, Health Researchers, Home Health Care Providers, Local Area Health Services, Mental Health Institutions, OEM/ODM, Palliative Care, Pharmaceutical, Private Hospitals, Private Surgeries, Public Hospitals, Super Clinics