IPTEC Surgical Masks-AMD6000-Ear Loop
IPTEC Surgical Masks - AMD6000
End of Financial Year offer Now extended
Our end of financial offer to BUY ONE CARTON GET ONE FREE is now extended for August or while stocks last. – information and how to order here.
Micromax Health recognizes the importance of providing our health care community with access to supplies of high quality PPE.
In order to contribute to this supply in Australia, Micromax Health has worked with Sys-Mac Automation Engineering to sponsor their surgical mask products for distribution in Australia.
Sys-mac is experienced in making production systems for bio-medical equipment. These products are Made in Singapore with a dedication to quality and commitment to sustainable business practices.
This device is registered as a Medical Device Included Class 1 with the Therapeutic Goods Administration (TGA), ARTG ID:341086.
The TGA provides a public online register of therapeutic goods – the Australian Register of Therapeutic Goods (ARTG). See this devices listing on the ARTG.
Please see below for detailed product information and technical datasheet. Proof of this products certification can be provided upon request.
Micromax Health is happy to support medical staff, health care facilities, disability support staff and all those who require these supplies with access to high quality and value for money options.
Contact us today for more information.


AMD6000 – Single-Use Surgical Masks, Non-Sterile
Ear Loop, 3-PLY pleated design
Regulatory
3-Ply design, Loop Tie, Single-Use Surgical Masks, Non-Sterile
⦁ AS 4381: 2015 Level 2
⦁ ARTG ID: 341086
⦁ EN14683 Type IIR
Manufactured under strict compliance of ISO 13485:2016.
Key Features
⦁ Bacterial Filtration Efficiency (BFE) 99%
⦁ High Breathability with excellent differential pressure value
⦁ Fluid resistant
⦁ Non-woven & Hypoallergenic
⦁ Soft Ear Loop
⦁ Nose-bar Adjustable for perfect fit
⦁ Flammability tested
⦁ 3 Layers of protection
What our customers are saying
"Great nose-piece. The strong nose-bar fit doesn't cause foggy glasses"

"The masks fit snuggly to the face and the elastic is smooth around the ears."

"Some of us find that face masks make us sneezy, these masks have not been bothering us at all!"

"This mask is smooth, soft and comfortable, thank you"
IPTEC Surgical Masks — AMD6000 — Ear Loop
50 masks per box / 50 boxes per carton
Immediately vacuum sealed to prevent microbial growth.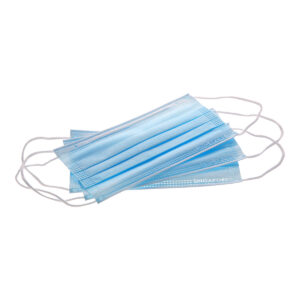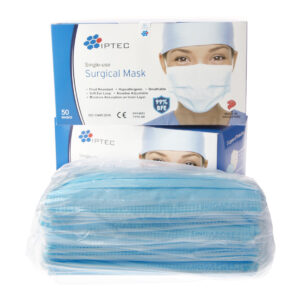 Ordering by the pallet available, contact us to discuss today.
Datasheets
Factsheets
FROM THE MANUFACTURER: The IPTEC Difference
RELATED VIDEO: How to wear a mask
Applications

Medical Examination Room

Emergency Departments

Hospital Entrances

Doctors Practice/Physician Clinic

Shopping Centers

In-Home Care Providers

Disability Support Delivery
Industries

Local Area Health Services

Private Surgeries

Public Hospitals

Private Hospitals

Aged Care Facilities

Super Clinics
Contact Us
Why work with Micromax Health? Medical Grade Solutions & Industry-leading Partners
We are committed to providing leading medical grade IT devices and solutions that ensure longevity of product and process. Reliable and Local Support
We have an Australian-based Warranty, Repairs and Support Centre for Asia Pacific including a next-day support service by our field application engineers. Internationally Certified
We are internationally certified against Quality, Environment and Safety.
Committed to providing medical grade IT devices and solutions for improved health care and to save lives