Screen One Temperature Screening
Screen One Temperature Screening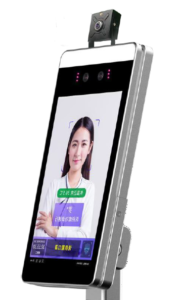 The Screen One individual thermal screening solution is used to quickly alert staff to any visitors that are showing elevated temperature readings. It can easily be set-up upon entry to a premises or a specific room. This one device can reduce the need for staff to monitor people manually.
Using highly accurate thermal cameras the Screen One gives clinics and medical facilities the ability to provide contactless, efficient temperature screening to all visitors. The Screen One can also measure temperatures on masked and unmasked visitors.
Setup is quick and easy with stand-alone terminals and an intuitive interface.
Users also have the ability to support area controls like security door systems using the Screen One. This makes use of the fast and accurate facial recognition capability to provide additional security for private clinics, warehouses and storerooms.
Benefits

Easy & simple setup, works right out of the box!

Keep staff and visitors safe with touch-free and accurate temperature measurement

Operate with minimal demand on staff

Helps you comply with Covid-19 guidelines and SafeWork principles

Maintain peace of mind and patient trust

Reduce costs of using staff to perform safety orientated tasks with a cost effective solution
Screen One Temperature Screening
Screen One Stand-alone Setup
Ideal Applications
Any public access area
Primary, secondary, health and aged care facilities
Education facilities
Industrial and commercial workplace areas
Factsheets
Applications

Doctors Practice/Physician Clinic

Hospital Entrances

Medical Examination Rooms
Industries

Local Area Health Services

Private Surgeries

Public Hospitals

Private Hospitals

Aged Care Facilities

Super Clinics
Contact Us
Why work with Micromax Health? Medical Grade Solutions & Industry-leading Partners
We are committed to providing leading medical grade IT devices and solutions that ensure longevity of product and process. Reliable and Local Support
We have an Australian-based Warranty, Repairs and Support Centre for Asia Pacific including a next-day support service by our field application engineers. Internationally Certified
We are internationally certified against Quality, Environment and Safety.
Committed to providing medical grade IT devices and solutions for improved health care and to save lives