Real Time Temperature Screening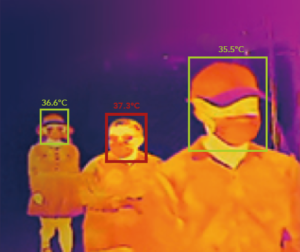 The cutting edge thermal measurement systems provided by Micromax Health provides real time temperature readings in high flow traffic areas.
With the need to screen incoming patients and health care providers at hospitals, this solution stops congestion, allows for social distancing — while still proving highly accurate results.
The system is easy to manage with greatly reduced staff numbers. This allows valuable nurses and other health care professionals to be used where they can be more effective.
Typical setup
Key Features
Accurate temperature measurement while being safe and effective
Non-contact screening providing fast pass screening
Multi-person measurement for busy entrances
Visual abnormal alert to facilitate back-tracking
Non-mask detection
Find Out More
Micromax Health provides medical grade IT devices and solutions for the medical and healthcare industry.
To find out more, contact us on 1300 871 322 or complete our online form.
Related video
Related products
Categories: Aged Care Facilities, Allied Health, Distributors of Technology, Health Researchers, Local Area Health Services, Mental Health Institutions, OEM/ODM, Palliative Care, Pharmaceutical, Private Hospitals, Private Surgeries, Public Hospitals, Super Clinics, System Integrators